Genesee Valley Physical Therapy & Sports Rehab
Gates-Penfield-Webster
ALL KINDS OF THERAPY SOLUTIONS
FOR ALL KINDS OF PEOPLE
VIEW OUR VIDEOS:
www.geneseevalleyphysicaltherapy.com/AboutUs/
WHY CHOOSE US?
Our number one priority is patient satisfaction! Not only will you always have the consistency of seeing the same physical therapist for the entire course of your treatment, we only staff Board Certified Licensed Physical Therapists. Our therapists come from diverse educational backgrounds and possess special interests and education so we can offer our patients excellence in orthopedic, sports related, neurological, pain management, women's health and aquatic physical therapy. Our staff works closely together, sharing information by regular interaction and continuing education courses.
Each of our 3 locations offers extended hours to accommodate busy lifestyles with both before work and after work options.
At GVPT, we realize that many patients have very high co-pays for physical therapy. We understand and are very sympathetic to the patients struggle between wanting to get better and being able to afford to do so. Because of our unique relationship with both the Eastside and Westside YMCA's we can offer some very favorable options. Please contact one of our offices for more details.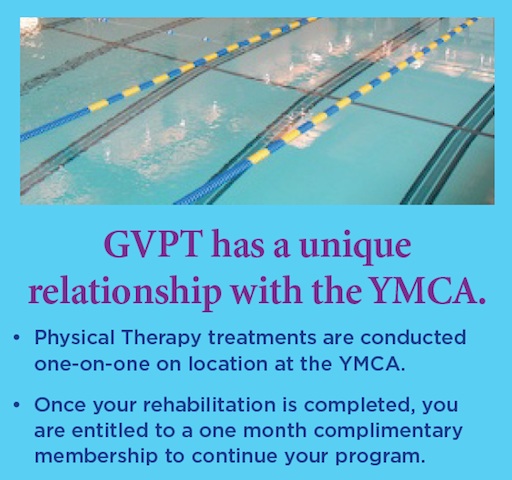 Our
Aquatic Therapy Program
is done at both the Eastside and Westside Ys with a licensed Physical Therapist in a one-on-one session.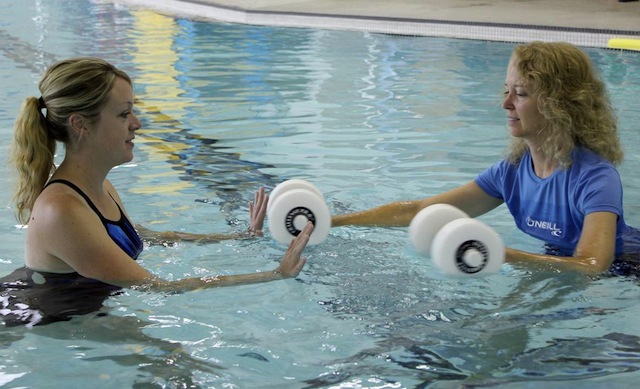 The benefits of choosing our program are:
·
Warm water (
86 degrees
) soothes aching muscles and joints
·
Low impact exercise reduces strain on inflamed joints
·
Improved circulation from hydro-static tension
·
Decreased weight bearing by 75% allowing for earlier return to functional exercise following injury or surgery
·
Beneficial to ALL physical therapy diagnoses including acute and chronic conditions
·
Lift assists available at both Y's for those patients who are non-weight bearing
Specialties
GVPT is proud to introduce these new services:
NEW PROGRAMS-

C.A.R.E. of NY (Cancer Rehab) link:
www.geneseevalleyphysicaltherapy.com/Services/CARE/

Lymphedema link:
http://www.geneseevalleyphysicaltherapy.com/Services/Lymphedema/

At GVPT, our therapists are highly qualified to treat a variety of injuries and conditions, including, but not limited to: