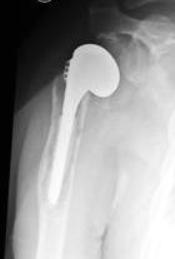 In the revision setting, after removal of an existing humeral component, proximal humeral bone loss may result. Alternatively, bone loss may result if the tuberosities fail to heal or resorb after hemiarthroplasty for proximal humerus fracture. Such loss may result in early loosening of a revision prosthesis.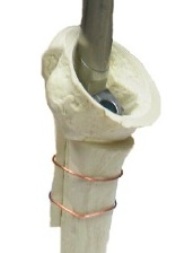 Dr Mark Frankle and co-authors have reported on the favorable impact of a prosthesis-allograft composite in such cases when proximal humeral bone loss extends beyond the area of the normal rotator cuff insertion. This article is attached below.
Restoring this bone can facilitate cuff reattachment, and diminish risk of loosening.A previous cement mantle is often encountered in the revision setting, and when there is proximal humeral bone loss this mantle may need to be removed to facilitate placement and cementation of a long-stem implant. Alternatively, a proximal humeral allograft may be used toprovide sufficient structural and rotational support for the humeral component. In the absence of infection, the allograft prosthesis composite can be cemented within the preexisting cement mantle in the proximal part of the humerus and serves to lateralize the line of pull of the deltoid muscle.
This increases the total resultant force of the deltoid as a pulley and provides additional bone stock should future reconstructions become necessary. Additionally, the allograft serves to maintain the height of the prosthesis bone construct, thus helping to optimize deltoid tension. In patients with poorly compliant soft tissue, however, the addition of an allograft may overtension the available soft-tissue envelope and should not be used.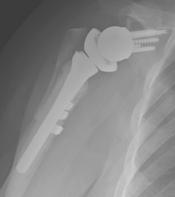 The case depicted in the xray above was addressed with revision to a Reverse shoulder with an allograft to replace proximal bone loss. Pre- and Postoperative videos can bee seen below.
.